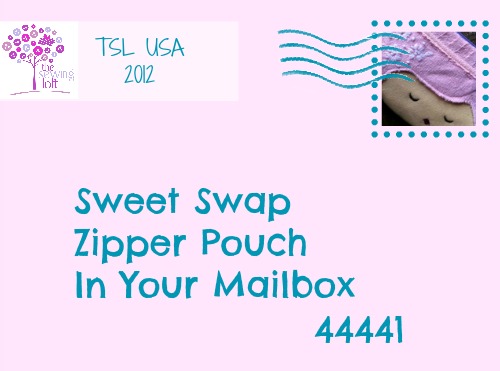 I am really itching to post about the zipper pouch swap project that I just finished up.
Heather from
The Sewing Loft
put together a fun Zipper Pouch Sweet Swap and since the ornament swap that I had previously participated in is no more, I decided why not! I figured this one would be much easier than creating 5 or 6 original ornaments and the work load was definitely much lighter!
I got my swap assignment on November 13 and since part of the swap was to agree that you would have your pouch mailed on December 1, time was of the essence! I got assigned to Tori Thompson from
Jane Not So Plain
from MO, so I quickly wrote to her and asked her what her favorite colors were and got her mailing address. As it turns out, that was the easy part!
It has been MANY years since I was in college, but as they say, old habits die hard and back then I would save the actual writing of the papers for last minute and it always worked out! Well true to form, I still like to schedule things in to my overfull schedule for production right at the last minute and for most of my adult life, I have had a tendency to put way too many things on the calendar and this year has been no different! It seems I just can't say no to anyone! Well, that isn't entirely true! I am getting better.
But this year, we have a new herd of Alpaca and as luck would have it, we had a severe swing in temps last Tuesday night and the drop to 20 degrees caused two of the newly moved girls to get diarrhea. Gross, I know, but all you need to know is that diarrhea is the one thing that can take an Alpaca down fast, so between Wednesday night and Sunday morning, ALL my free time went towards that! Oh and lest we forget I have a full time job at the University of Virginia! And I had a flat tire when I went out to leave for work on Tuesday morning that set me back a half day because by the time I got to the service station, they said I should probably get 4 new tires because mine were on the edge of not passing inspection which I needed by the end of Nov.! Falala-falala-falalalala - this is falalalala to the tune of Jingle Bells in case you were wondering!
I did not get to bed any earlier than 12:30 am through Sunday night and since my husband gets up at 5 for work, I have been working on 3 to 4 hours sleep for the past week! Even on the weekends, we are up at 6 because dogs just don't understand the concept of the weekend! So since I had to spend a couple extra hours in the barn each night after work, I didn't actually sit down to sew until Sunday afternoon! The good news is that I finished around 10:30 pm Sunday night, and mail doesn't go out from our little rural PO on weekends anyway! After an early Sunday morning call to the vet - he said we had done everything as we should because thank God this isn't our first rodeo - and a shot of Ivomec each for the girls later and all is well with the herd again!
I had bought my fabrics after work on Monday, Nov. 26 and I spent a couple late nights coming up with a design that I hoped the lovely Tori would like. She had told me she liked turquoise and purple, so I tried to work around those colors for a main theme. The hardest part about this swap was trying to design something for someone you don't know and all you have to go on is colors. If I am designing something just for the sake of designing, or coming up with something new for the shop, I am normally inspired from within or by something around me and I just go with it and then I hope someone will like it as much as I did while making it!
Here are the supplies I came home with Monday night.
And here are my calculations.
What do you think I will be? Stay tuned! As soon as I hear from Tori that the postman delivered, I will reveal the finished product!